Description
Just for Dogs
My little rescue dog, Molly (the star of the Bosca Teolaí logo!) is my ultimate Hygge. She is always by my side and for anyone who owns a dog, you'll know all about it! The unconditional love, snuggles and the sheer joy they bring to our lives is incomparable to anything else.
I got Molly from a wonderful rescue in Limerick – Molly Moos Westie Rescue Ireland – and I'm delighted to announce that 20% of all profits from the sale of the Just for Dogs Bosca Teolaí will be donated to Molly Moos just in time for Christmas!
So, you can see why I had to do a Bosca Teolaí for dogs too!
This Boscaí contains everything a dog needs to feel cosy, pampered and loved – it's all about Self-Care – even for dogs!
We've chosen some beautiful natural products to include in this hamper – Honey and Oat natural treats, all handmade in Ireland, Paw Salve and Dog Soap – again, all-natural and handmade in Ireland. Also included is a jar of Mutt Butter – liquid cocaine to dogs (or maybe just Molly!) For the more active dog, we've included a Puzzle Lick ball – which can be used with treats or Mutt Butter. There's also a cute bow tie for your pooch; get them ready for their Christmas portrait! And for the human – a fab Doggy Mug to enjoy a nice cup of tea in – all the essentials for you and your best friend. Once you've tried them out with treats and games, they'll have a lovely blanket to enjoy and snuggle up on the couch with you – total Hygge/Teolaí vibes!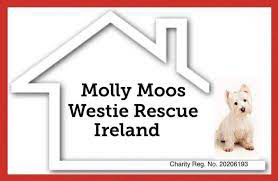 20% of all profits from the sale of the Just for Dogs Bosca Teolaí will be donated to Molly Moos
Follow Dan-Éire Designs: