At  Dan-Éire Designs, we love to support fellow Irish businesses. Our new initiative, Friends of Dan-Éire Designs, introduces you to our hand-selected partners and their amazing talents.
From the female powerhouse duo behind GAFF Interiors, Caroline Foran and Jo Linehan, comes GAFF Shop; a brand new, sustainable spin-off platform that connects sellers of beautiful homewares and furniture with like-minded buyers.
GAFF Shop offers a careful curation of items and you won't have to scroll through reams of rubbish to find the one gem you're looking for.
If you're selling items you'll have the satisfaction of knowing your pre-loved pieces are going to worthy homes because furniture has feelings!  From vintage accent chairs to easily styled headboards, you'll find it all on GAFF Shop, and the process involved whether you're buying or selling couldn't be easier to follow.
 Tory is an abstract artist based in Galway. Her abstract paintings are vibrant, expressive & colourful. Working with acrylics on paper and canvas, she layers washes and blocks of colour with a spontaneous energy. Little visual snapshots of recently observed patterns and textures find a place on the page. She uses markers, pencil and pastels to make naïve marks and patterns amongst the painted layers. She thrives on the creative process and loses herself in the beauty of paint and marks on a page.
She is inspired to create beautiful paintings that have a positive and uplifting effect on the viewer.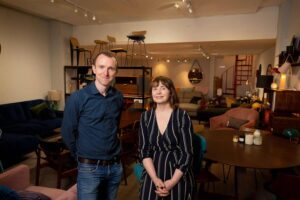 Arthur and Grainne set up Pieces.ie in 2018 to bring a new style to the market. Initially the Pieces were considered for smaller / city homes, but quickly their unique style and Pieces have become popular with all homeowners
Pieces.ie has a unique collection of Mid Century-Modern pieces paired seamlessly with contemporary pieces.  The aim is to pair trend-driven style with affordability and quality, to create a collection unrivaled in the Irish market. Working directly with designers and creators, they have sourced exclusive Pieces from all over the world. You won't find them anywhere else in Ireland.
Upstairs Downstairs was started by Ann Leyden in 1999. She saw an opening in the market for a glossy interior design magazine produced and published in the West of Ireland. Galway and its surrounding counties were coming to the fore with interiors and design. A new profession was emerging – Interior Designers and Interior Architects. Many furniture shops with top of the range and up to date products were springing up all over Ireland and Upstairs Downstairs was a great way to showcase all that was good in Interiors outside of Dublin. Upstairs Downstairs ethos was to showcase ordinary homes as well as luxurious dream homes. It continues to show these great homes giving inspiration to all its readers.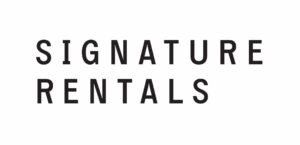 Signature Rentals is a space where you can find objects that contribute to the aesthetic of a moving and energised event. It is the first of its kind in Ireland – a space where you can hire the items you adore for your next celebration or you can purchase gorgeous items to add to your home.  It was founded by the well-established Maria Reidy who has over 12 years of experience designing and managing events for clients in Ireland and worldwide.
Signature Rentals offers two distinct options – you can hire items for your next event or wedding or you can shop their collection of tabletop items for your own home. Signature Rentals can provide everything you need from candlesticks and cushions to seating and tables.
Sharon Mc Nulty is a Gold certified KonMari Consultant & Professional Organiser and the founder of Serenity Sparks Joy. She provides intensive, daily decluttering support to clients over the course of one week, achieving a home that is completely organised and streamlined—your place of rest and restoration. This takes between 100 to 150 hours and is normally completed over the course of several months but, her team provides this in one week. This is ideal for the client whose home is stressful and just not working for them, those whose clutter is affecting the sale of their home, or the client who doesn't want to take clutter to their new home.
Markus Voetter of VOTO.ie is an acclaimed commercial and fine-art landscape photographer with a passion for the dramatic beauty of nature and light. He is much sought-after for his fine art prints and landscape commissions throughout Ireland and abroad. Markus' work has been featured in Professional Photographer Magazine and he is a contributor to one of Germany's leading publications, Stern Magazine.
Growing up in the scenic midlands of former East Germany, Markus discovered a love for the outdoors and the beauty of nature. He was introduced to visual arts and illustrations at an early age and with the arrival of his first camera, he adapted his creative skills to the art of photography.
Markus' fine-art prints bring inspirational landscape imagery into your home or workplace.  Or commission Markus to capture stunning landscapes for your professional premises.
Dwayne Higgins is the Design Director of My3D.ie, which is a small client-focused 3D Visualisations company in Galway. Dwayne worked in an Engineering & Architectural Technology Consultancy for 21 years and has a vast amount of experience in residential and commercial design. He developed My3D.ie as an industry response to bring accessible photo-real 3D rendering to the self-build market. My3D.ie also offers commercial visualisation services.
Follow Dan-Éire Designs: