About Bosca Teolaí
Dan-Éire Designs brings together all the elements of the Danish philosophy of Hygge (pronounced Hoo-gah) with an Irish twist.
We have hand-picked the perfect items to keep you feeling Teolaí – the Irish word for Cosy (pronounced Cho-Lee), creating Bosca Teolaí – Cosy in a Box.
Hygge/Teolaí encompasses a feeling of cosy contentment and well-being through enjoying the simple things in life. Some of the key ingredients of these philosophies are;
togetherness,
relaxation,
indulgence,
presence and
comfort.
You'll be able to purchase your Bosca Teolaí from Wednesday 22nd September until Friday 5th November 2021 from our online shop, with delivery dates starting on 8th December 2021*, making sure that everything will be delivered just in time for Christmas.
We've made it really easy to organise and pay for gifts for friends and family. You can even purchase a Bosca Teolaí for a member of your staff to show them how valuable they are to you and that their self-care matters!
If you have any questions about Bosca Teolaí, read our FAQs
We hope to help you experience all these elements with our Bosca Teolaí this Christmas.
Our Range of Bosca Teolaí
Just for You*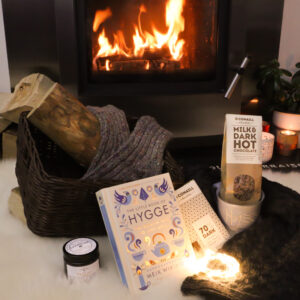 This Bosca is a perfect gift for yourself or a loved one. It's the ultimate in Hygge/Teolaí Self-Care!
Containing all the essentials to bring more Hygge into your life and create happy-making rituals – Donegal 100% Wool Socks, a hand-made Teolaí scented candle, The Little Book of Hygge, Irish Handmade chocolate and hot chocolate flakes, with a handmade "Teolaí" pottery mug to enjoy your Hot Chocolate in by the fire! Not to mention the whole lot comes in a beautifully woven basket. Also included is a voucher for a 30 min online-consultation with the Dan-Éire Designs team, worth €75, to help bring hygge into your home.
Just for Us*
This Bosca can be bought for yourself and your partner to enjoy, or give the gift of Hygge/Teolaí to a lucky couple!
Containing 2 pairs of 100% wool socks, a hand-made Teolaí scented candle, a  bag of hot chocolate flakes to be enjoyed in handmade pottery mugs – one etched with "Hygge" and the other with "Teolaí".  And if that wasn't enough chocolate, there's a 200g bar of luxury Irish chocolate to share (or hide away from your other half!). To finish off this beautiful package, we've included a throw made from 100% recycled wool from Aran Islands Knitwear – perfect for snuggling up in front of the fire. Flick through the pages of the Little Book of Hygge to learn how to create happy-making rituals in your life and take advantage of the 45 min online consultation voucher with the Dan-Éire Designs team who can offer you design advice and how to bring more hygge to your home. We've also included a lovely woven basket that can be used for years to come.
Just for Luxury*

This Bosca is the ULTIMATE in self-care Hygge/Teolaí and is packed to the brim with Irish artisan products.
You'll get all the essentials that are available in the other Boscaí – the Teolaí scented candle, 2 pairs of 100% wool socks, The Little Book of Hygge, Irish chocolate and hot chocolate, a Hygge mug and Teolaí mug to enjoy steaming hot mugs of hot choc, tea or coffee, a luxury 100% Irish wool throw, a 100% authentic sheepskin and a bottle of Kinsale Wild Red Mead – the perfect winter warmer when used in their Mulled Mead – we'll even share the recipe with you! We have also included a voucher worth €150 for a 60min online consultation with the Dan-Éire Designs team to help you come home to hygge this winter. Again, it's all been packaged in a fabulous woven basket to be reused and enjoyed again in your home.
So picture this – you're curled up with your Little Book of Hygge with your hands wrapped around a steaming mug of Irish hot chocolate. You've got your woolly socks on, a sheepskin at your back and your 100% wool throw draped over your knees. You've just lit your Teolaí candle and scents of musk, vanilla and sandalwood are meandering through your home and the rain has just started outside. You've just created the perfect environment for yourself to enjoy a little self-care – incorporating Happy-Making Rituals into your everyday life. You've just created Hygge/Teolaí in your own home.
Just for Dogs*
My little rescue dog, Molly (the star of the Bosca Teolaí logo!) is my ultimate Hygge. She is always by my side and for anyone who owns a dog, you'll know all about it! The unconditional love, snuggles and the sheer joy they bring to our lives is incomparable to anything else. I got Molly from a wonderful rescue in Limerick – Molly Moos Westie Rescue Ireland – and I'm delighted to announce that 20% of all profits from the sale of the Just for Dogs Bosca Teolaí will be donated to Molly Moos just in time for Christmas!
So, you can see why I had to do a Bosca Teolaí for dogs too!
This Bosca contains everything a dog needs to feel cosy, pampered and loved – it's all about Self-Care – even for dogs!
We've chosen some beautiful natural products to include in this hamper – Honey and Oat natural treats, all handmade in Ireland, Paw Salve and Dog Soap – again, all-natural and handmade. Also included is a jar of Mutt Butter – liquid cocaine to dogs (or maybe just Molly!) For the more active dog, we've included a Puzzle Lick ball – which can be used with treats or Mutt Butter. There's also a cute bow tie for your pooch; get them ready for their Christmas portrait! And for the human – a fab Doggy Mug to enjoy a nice cup of tea in – all the essentials for you and your best friend. Once you've tried them out with treats and games, they'll have a lovely blanket to enjoy and snuggle up on the couch with you – total Hygge/Teolaí vibes!
Each box has been carefully curated to help you create new happy-making rituals in your life. We've chosen a mix of beautiful homewares, artisan food and drink and products made in Ireland for you to enjoy.
"The true essence of hygge is the pursuit of everyday happiness and it's basically like a hug, just without the physical touch," – Meik Wiking
*Please note that some items may be substituted for alternatives of the same quality but may vary in size and colour. This is because we work with Irish artisans and brands that make limited numbers of their beautiful products.
Follow Dan-Éire Designs: