At GAFF, we are always looking for affordable, easy ways to update our living spaces – but that means it shouldn't cost the earth to do so. Here are 3 of our Top Tips to creating a beautiful GAFF in a clean, green way.
Shop Pre-Loved
Buying second-hand is one of the easiest and most effective ways to help lower your carbon footprint when it comes to home décor. While we all love a quick retail hit, we've got to be more conscious of extending items' lifespans for as long as possible. Buying pre-loved allows you to do that. We created GAFF Shop as a one-stop go-to for all your interiors needs. Every piece is pre-loved, but thanks to our dedicated approval system, we make sure everything on site is GAFF worthy. So, you know that whether you need a new lamp, bedside locker, or large dining table to complete your interior goals, we have ensured it's going to be a pretty purchase.
Consider Materials
We've all come to learn how disastrous plastic can be for our planet as well as our personal health, which is why taking the time to consider what materials you invest in is key. You don't need to overhaul your house, but next time you need a new essential think twice; a bamboo clothes horse instead of a plastic one, a natural cotton or linen tablecloth and reusable outdoor cutlery instead of single-use are all ways to help keep your interior approach earth-kind and green.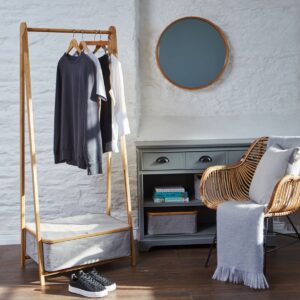 Support Local
We all love our highstreet interior go-tos, not only for their affordability but for their speediness and ease of purchase, too. But here in Ireland, we are absolutely blessed to have a huge selection of incredible local shops and companies creating to-die-for pieces and look to Amurelle for toxic-free bed linen, stores like April and The Bear, Stagers Lifestyle, CA Design and The Snug Room for home essentials that are all going to support local communities and business owners.
For more home inspo, look to GAFFinteriors.ie and @gaffinteriors on Instagram.
Follow Dan-Éire Designs: